Bryant University's Commencement weekend, May 20-May 23, is the culmination of the institution's strong commitment to preserving the in-person campus experience. Throughout the 2020-2021 academic year, Bryant adapted and maintained 94% residency without interruption to in-person classes.
Watch Commencement Weekend Ceremonies
Bryant will celebrate on campus and in person the accomplishments of Class of 2020 and Class of 2021 students and seven distinguished honorary degree recipients, including industry and higher education leaders and heroes on the front line of the pandemic.
"This year's Commencement ceremonies are particularly meaningful for our graduates and the entire Bryant community," said President Ross Gittell, Ph.D. "We are very proud of the persistence and resilience of our graduates and the strong commitment to our student's success of our faculty and staff. The entire Bryant community worked together to address challenges and demonstrated the leadership and character for which our institution is known."
Bryant is the only college or university in Rhode Island to allow guests at Commencement ceremonies on campus this year. To reduce the size of individual events, Bryant Commencement Weekend 2021 includes four ceremonies:
Thursday, May 20, 5 pm: Graduate Commencement ceremony for the Class of 2021, 260 graduates
Saturday, May 22, 10 am and at 3 pm: Two Undergraduate Commencement ceremonies for the Class of 2021, 840 graduates
Sunday, May 23, 11 am: Graduate and Undergraduate Commencement ceremony for the Class of 2020, 1,039 graduates
With high vaccination rates and improved COVID conditions, the State of Rhode Island has recently announced plans to curtail some public health related restrictions and requirements. This means that we can now allow guests, along with the graduates and the platform party, under the Commencement tent and there will be no need for advance COVID-19 surveillance testing for guests.
You will find the names of guest speakers and honorary degree recipients here.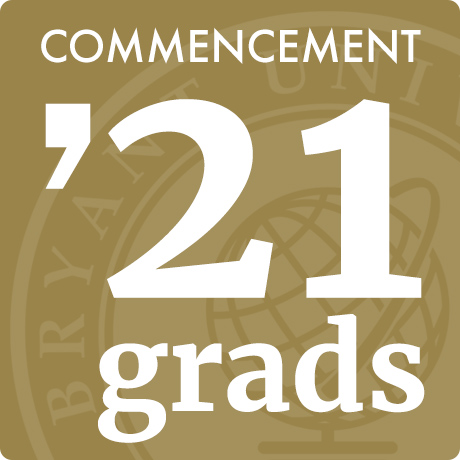 REGALIA
To help commemorate your hard work and commitment, you can pick up your regalia at the Bryant Bookstore or have your regalia shipped directly. This allows you to have regalia to take photos to share with family and friends, wear at the rescheduled commencement, and have a keepsake of this important milestone.
There is an $11 shipping and handling charge to have your regalia shipped directly. There are no shipping and handling charges to pick up your regalia at the Bryant Bookstore.
Questions? Please contact the Bryant Bookstore at sstowik@bryant.edu or 401-232-6240.